Iguaçu (in portuguese) or Iguazu (in spanish) falls are the natural border separating Brazil, Argentina and Paraguay. It is an important protected natural site, within the rain forest, home of a rich variety of fauna and flora, and of course the largest waterfall of the world. Or waterfalls, to be exact, as there are some 250 distinct waterfalls composing this wonderful site! The largest part of the site, including the biggest waterfall, is located in Argentina, which is why many tourists focus on this part of the border. But trust me, it would be a shame not to cross the border and come take a look on the Brazilian side, because it has a lot to offer! It is altogether different, unique and complementary, everything you need for a beautiful and unforgettable trip!
Spending the night by the waterfalls
Let's start with the biggest advantage of the Brazilian side of Iguaçu falls: it is here, and only here, that you can find the one and only hotel located inside the national park of Iguaçu. What does it mean? Well, that its guests have the privilege to fall asleep and wake up to the magical sound of the waterfalls, to have their breakfast surrounded by its breathtaking view on nature. The Belmond Hotel das Cataratas has a traditional colonial architecture, which fits nicely within its environment, and its rooms offer views either on the jungle or on the waterfalls themselves. The hotel also offers special activities, including the possibility for a guided visit early in the morning or in the evening, at sunset: in both cases when the National Park is closed, which means you have the privilege to enjoy a very unique experience! Of course, luxury and privilege have a cost, and we are obviously looking at the most exclusive and expensive hotel of the area. But if you can afford it, be it just for a night, don't miss out on it, you won't regret it! It's totally worth it.
To be noted: right in front of the hotel is the entrance of the footpath you need to take to go visit the waterfalls, it's the same entrance that is taken by all tourists.
Visit a sanctuary for birds (and other local animals)
Right before entering the site of Iguaçu National Park, on the side of the road, is the Parque das Aves, birds park. It looks pretty natural and humble, but it is far from small and presents a very rich variety of local animals, parrots, toucans, butterflies, reptiles… It is also the means to bring awareness to tourists about the threats faced by the rain forest and its inhabitants and presents its projects to help protect it. The entrance fee is R$60 for everyone above 8 years old, free for children until 8, and both children and adults will love walking among the animals, seeing parrots and toucans flying around their heads! The visit can take longer than planned, because everywhere you look, there's something new to admire. Before you leave the sanctuary, have yourself a good cup of coffee, and savor it on the terrace, while enjoying a little more the amazing nature surrounding you.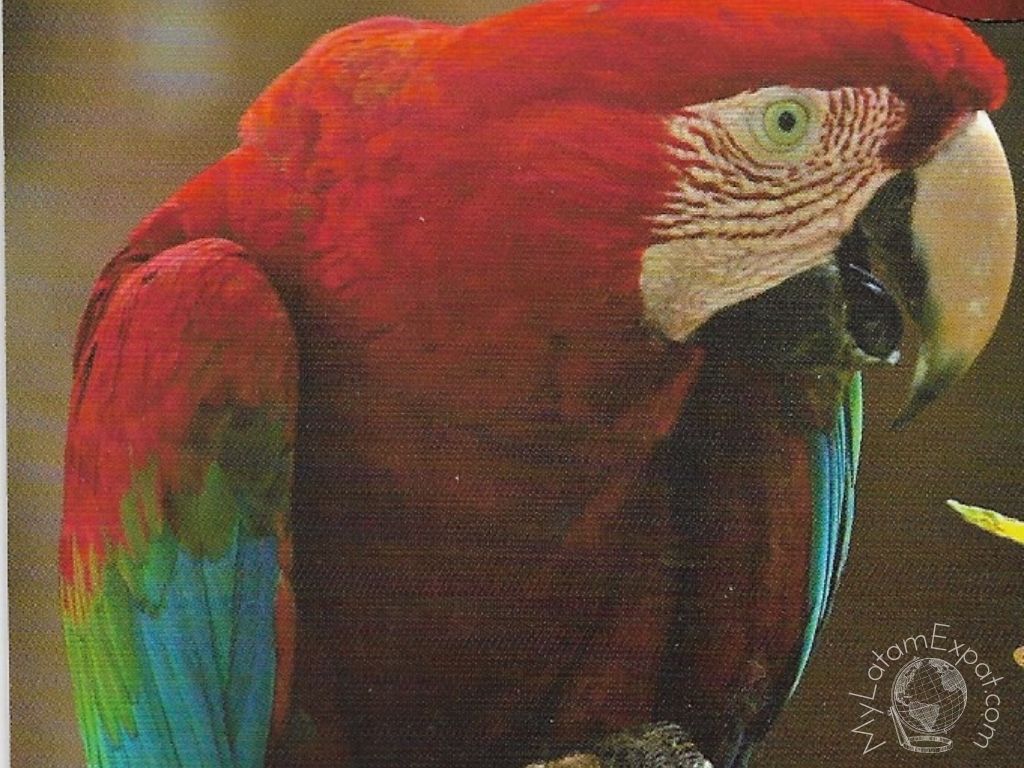 Taste a delicious local dish in a Brazilian buffet
The small town of Foz de Iguaçu is located about 20 minutes from the eponymous airport. You'll notice most of the hotels are located alongside the roadway leading from the airport to the town. Of course, these hotels have restaurants and provide room service. But if you're tired from hamburgers, pizzas and pasta and looking for something a little more typical, go check out one of the small restaurants in the town of Foz de Iguaçu itself. There you'll come across a bunch of small, humble places, sometimes looking a little rustic and dusty, but they're actually always pretty clean and serve simple traditional food… of quality. As often in Brazil, no menus but a buffet where you can choose whichever food you like, for a price per plate/person or weight. A perfect solution when you don't want to choose but prefer tasting it all. So don't be afraid, just go for it!
Having dinner in a small town restaurant is also a way to go off the beaten track and discover the local life behind a touristic site. Of course, you need to be cautious: avoid walking, especially at night, and prefer ordering a car at the reception desk of your hotel; do not carry any valuable objects and don't show off any expensive item, keep your phone stowed away. Also be aware that many small businesses do not accept card payments, so be sure to carry enough cash with you to pay the bill!
Last but not least: visit the Brazilian National Park and the waterfalls of Iguaçu
Accessing Iguaçu National Park
No way to get lost: there's only one way, one big road, to go from Foz de Iguaçu to the entrance of Iguaçu National Park. Pass the bird sanctuary (Parque das Aves) and the entrance is right there in front of you. A long road will then bring you to a big parking lot, where all cars and buses have to park: it is not allowed to enter the National Park with a private vehicle. Next to the parking lot, an impressively big building, with counters to buy the entrances to the National Park, other desks to show the entry tickets and finally an access to the buses of the park, that take the tourists up to the waterfalls' path. So basically, in this building, you'll find 3 different waiting lines… Even if you choose to visit Iguaçu off-season, you'll find it is always crowded, so there are always waiting lines. To avoid some of the queuing, consider buying your tickets in advance, so you can already skip line n°1. There are various fares but children under 11 enter for free, except for the bus fee. Everyone above 2 years old gets to pay for the bus. Another piece of advice: try to get there as soon as the park opens because naturally, the later it gets, the longer the waiting line… to enter, to take the bus, but also once you are on the path to the waterfalls, there's a queue of polite tourists who wait patiently for their turn to take pictures without any stranger photo bombing!
There is however a way to avoid some more queuing, if you are willing to pay extra: hire a private guide with a registered car. Ask the reception desk at your hotel, they'll provide you with some good contacts. While you will still need to wait in line to show your valid entry ticket, you'll be able to skip the line for the buses, as the authorized guide will be waiting for you to get back in the car. Authorized guides with registered cars are actually the only ones allowed to enter the national park with their private vehicles. It'll save you a precious amount of time, but a guide will also give you lots of fascinating pieces of information, and I'm not even talking about the advantage of someone taking a quality picture of your whole group in front of the majestic waterfalls!
Reaching the Iguaçu falls
So once you are done with all the queuing at the entrance, whether you go by bus or private cab, you'll drive along a long road cut through the luxuriant forest that borders it on both sides. At the end of the road, on your left you can admire the Belmond Hotel das Cataratas, and on the right you'll find the entrance of the walking path that goes along the water. While walking you can already admire some smaller waterfalls and the beauty of surrounding nature. Keep walking and you'll get to some platforms that helps you watch the wonderful spectacle of the bigger waterfall. Depending on the crowd, like I said earlier you might need to wait in line for your turn to have the best view on the waterfall, without anyone standing in front of you. In my experience, people are rather well disciplined, waiting for their turn, taking their time, naturally, but then moving on to the other side, exiting the platform. As you leave the platform, there's a fork on the path that leads you to a rather big building, that provides bathrooms, a restaurant (buffet, of course, and they serve good food), a souvenir shop and a few benches and picnic tables to rest. Everything is done to provide the tourists with the best possible experience, and needless to say this is a personal opinion, not a commercial!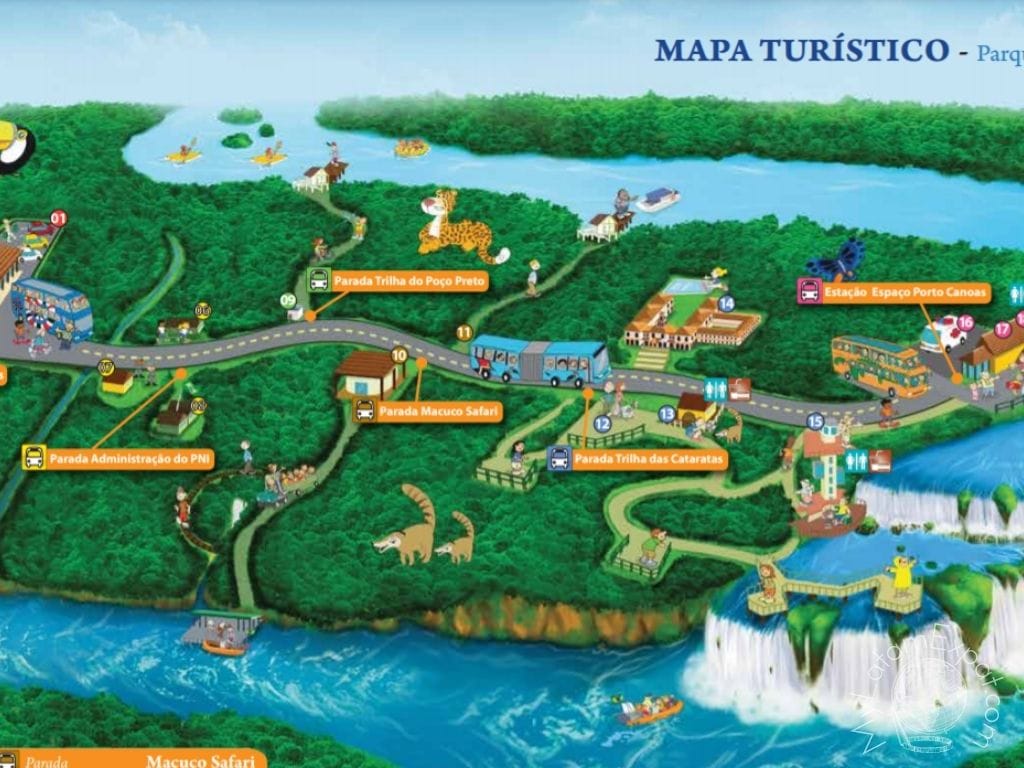 Other activities within Iguaçu National Park
While inside Iguaçu National Park, you can choose to take part in other activities, a little more sporty. There are indeed other bus stops along the road, at which all buses stop: it's up to you to decide whether you are interested in these activities or not. For example, at the bus stop named "Poço Verde", you can access a hiking trail of 9km (about 5,6 miles) going through the jungle, trying to catch a glance at wild animals, birds or sloth mainly, more rarely a jaguar! At the bus stop called "Macuco Safari", several activities are being offered. You can choose to go for a smaller and easier hike, more accessible to children, or you can dare go for a boat tour that takes you right under the waterfalls: you are sure to get soaked!
Tips for visitors
When is the best time to visit Iguaçu falls?
You can visit Iguaçu National Park at any time of the year, you'll get to discover a changing nature according to seasons. But if you want to be impresses by the waterfalls, prefer to visit by the end of the rain season, when the water flow is at its highest. Basically, the rain starts intensifying as of October until January approximately, so try visiting any time between November and February. July and August are the driest months, so at that period the waterfalls will be less impressive due to lower flow. In terms of temperatures, the weather is hot all year long, with steady temperatures of more or less 90°F.
What should I pack in my suitcase?
You'll be hot, so pack adapted clothes, but mainly you will get wet! Forget hats and umbrellas, what you need here is a plastic poncho with integrated rain hood. Don't worry about style, these are very fashionable in Iguaçu! In case you don't have one, you'll find them for sale in every store! And of course, don't forget to bring sunscreen and mosquito repellent, both these products are essential in Brazil!
So the Brazilian side of Iguaçu Falls might not be geographically the most important, but there are many things to see and many activities to do on this side of the natural border. Make sure you come this way, you certainly won't regret it, you'll be amazed!