Salinas is located on the Southern part of the Ecuadorian coast, a rough 2-hour drive from Guayaquil. It is a very popular beach town, both during weekends and for the holidays. Unlike many ecuadorian beaches, Salinas is not a village but a real town, with rather high buildings (from 5 to 15 or 20-stories, which is high in Ecuador!) along its Malecón, the boulevard running along the beach.
The Malecón of Salinas
It's tourists favorite place: many hotels, hostals and other rentals are located on this street, as well as many restaurants, bars and shops, for all types of budget and all preferences.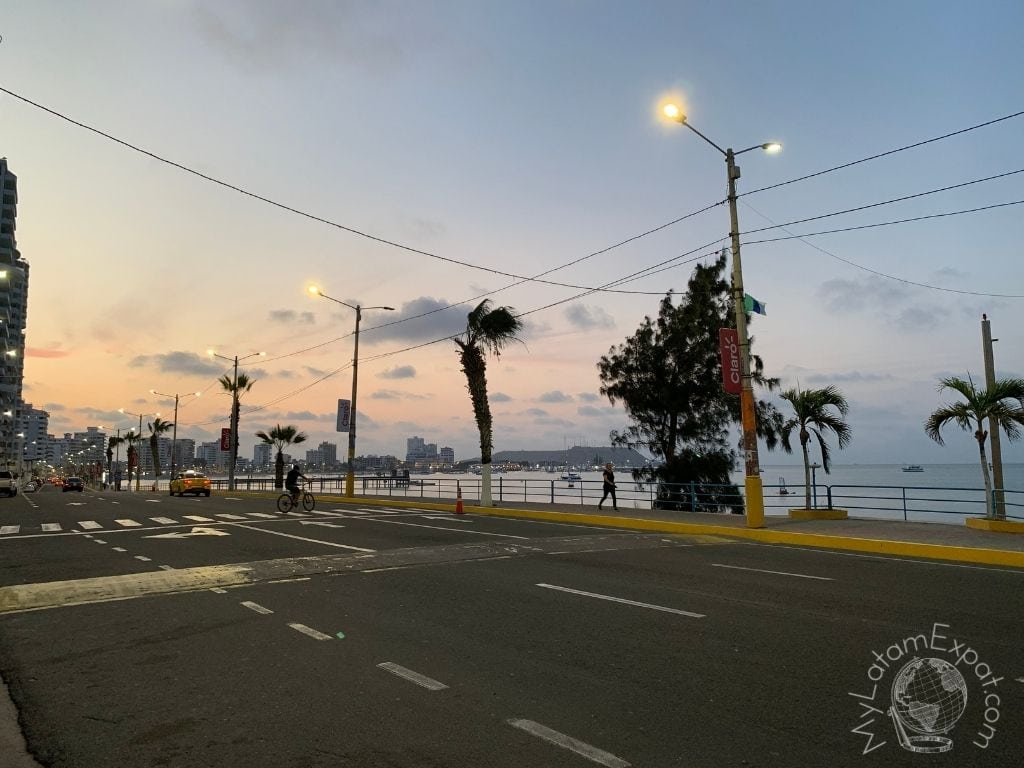 The Malecón gives access to the sandy and sometimes a little rocky beach, but be careful: the tide is important! When it's high, all of the beach is under water, up until the stairs leading to the Malecón, giving you no other choice than to leave. So make sure to inquire about the tide times before heading off to this beach! On the bright side, sea shell amateurs will enjoy walking along the beach during low tide, they will see plenty of various specimens!
The waves are pretty important, not enough for surfers maybe, but enough for parents of young children to be extra careful, and for kids to discover the joys of body-surfing for example. If you're into surfing, I can only recommend that you go a little further north, towards Montañitas for instance, Salinas is more for bathing and swimming.
Chichipe beach
Towards the end of the Malecón, and before a military naval base, is the neighborhood of Chichipe, with its tall, modern high-class apartment buildings and its beautiful sandy beach. While the accommodation is for higher budgets, the beach is available to every one, and will probably charm you. Deeper than the Malecón's beach, it is also in a curve, protecting it. The tide does not go all the way up, and the waves are much calmer, so you can enjoy it all day long, with all the family.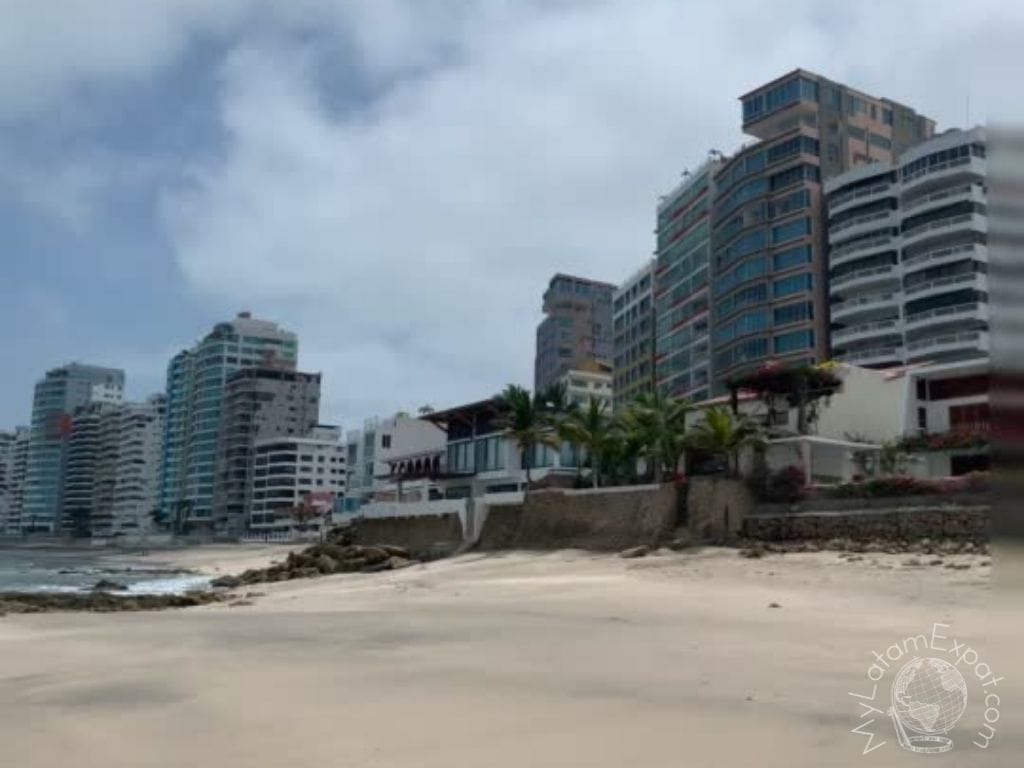 Activities on and around the beach
On the beach
Whether you prefer the beach on the Malecón or in Chichipe, many activities are available in Salinas. There are funny pedal boats in the shape of a car, with a slide going from the roof of the car to the water: children just love it! You can also choose to take a ride on a banana-shaped inflatable buoy, towed by a motorboat, that will grant you some thrills in the ocean, before taking you back and operating an abrupt turn-around that will eject you into the water (don't worry, it's all calculated and life-jackets are mandatory). You can also opt for a ride along the sea on a jet-ski.
Boat trips
On the Malecón, you will also walk by a pier leading to tourist boats: for a small fee, it will take you out at sea to take a peak at the whales (first check if you are in the right "season", but if you're not, you'll still enjoy a nice boat trip!).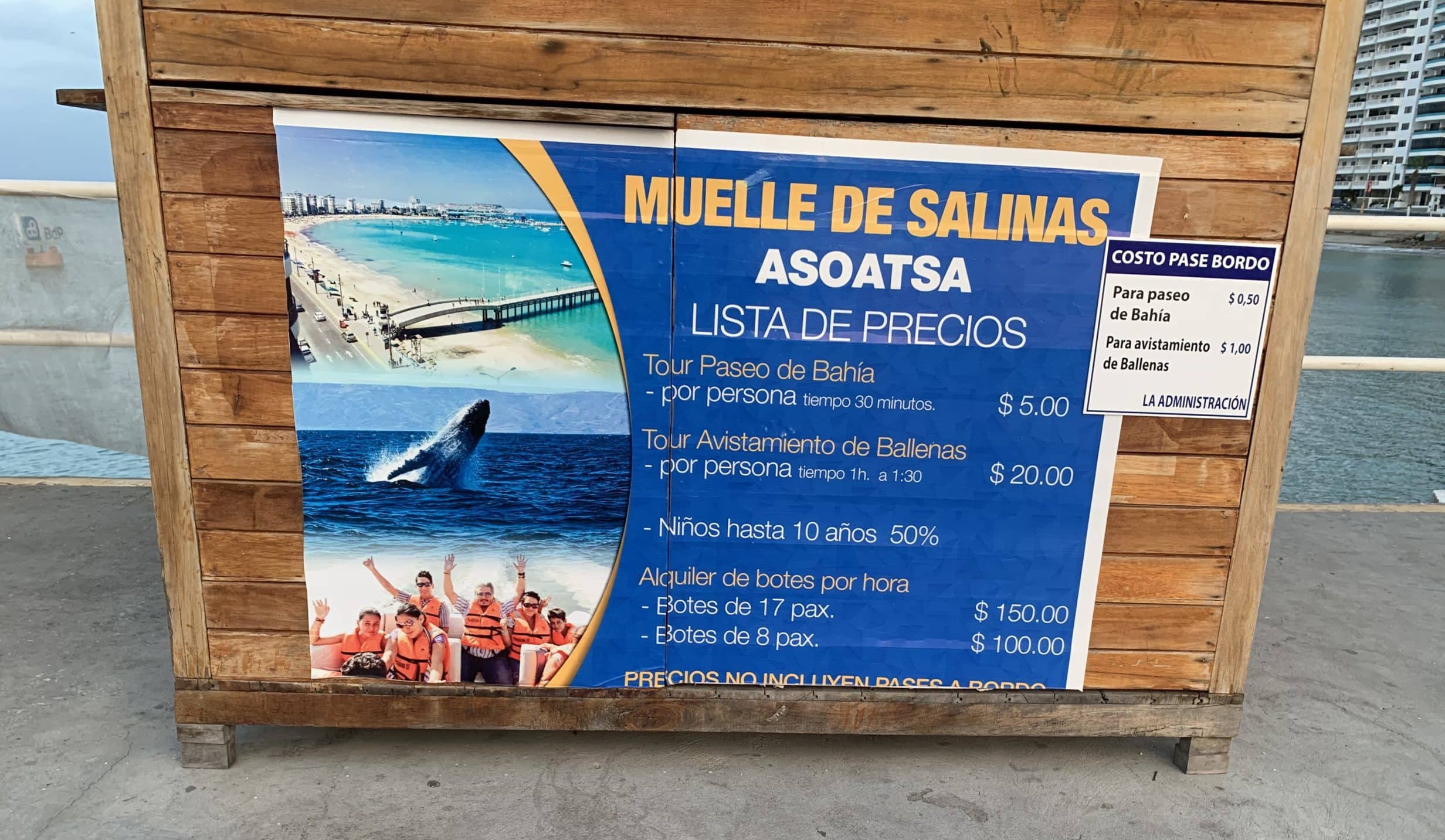 Beach vendors
Like on most Latin American beaches, there are many vendors walking along the beaches in Salinas to try and sell you a wide variety of things or services. They will call out every time they walk close to people, and they make a lot of goings and comings so it happens A LOT. Souvenirs, hats, sunglasses, beach games and toys are classics, and you will also find people offering to make you braids or a temporary tattoo… But what you'll see most are people selling foods and drinks. Due to COVID-19 sanitary restrictions, it is officially not allowed to sell alcoholic drinks on the beach, not food. So vendors will walk around with a drinks menu and when someone decides to buy one, the vendor will walk to the bar or restaurant they work for, or to their trunk, and bring back the drink that was ordered. Ice-cream vendors can no longer walk along the beach either, so they will use the same "menu" trick or keep using their bicycle horn from the street to attract potential customers. When it comes to other types of food, vendors proceed differently. Of course, the system of "showing customers a menu and going to get the ordered food on demand" also exists, but most beach vendors prefer to infringe the rules and walk along the beach with their cooler, sometimes even pretending to be enjoying the beach like any tourist when they spot local enforcement approaching! Despite trying to be discreet, they do not fool the officials, but these will only interfere if the vendor is being too obvious. On the menu: empanadas, verde and other snacks, or even complete meals, pretty much anything you'd like to eat on the beach. The most surprising? People selling lobster and crayfish: they walk around with a cardboard box full of this still living seafood and offer to cook it for you on the beach, on their little camping stove!
Other activities in Salinas
The most western point of Ecuador
Besides going to the beach, one of the interesting activities to do in Salinas is go for a walk, a little trek, to the place called "La Chocolatera". Nothing to do with chocolate, but a nice view on the sea, from above, and the knowledge that you were standing on the part of Ecuador that is the most to the West (of the mainland, not taking into account the islands).
The local market
If you rent an apartment and have the possibility to cook, go check out the local market. Located a few streets behind the beach, it's rather big and pretty well-stocked. Locals will be thrilled to sell you their fresh products at a very competitive price. Unlike on the Malecón or on the beach, you will pay the "non-tourist" rate here. Check the lobster and the shrimps: they are delicious, and cheap! Only inconvenience: you'll have to cook them yourself, but if you know how to, or dare try, trust me your efforts will be largely rewarded!
Museum of the whales
It's a small place outside of the center of town, born from a private initiative. This little museum shows you skeletons of various whales, all local, and enables you to find out more about this impressive animal. Kids will love it! (and also non-kids!)
Stores and conveniences in Salinas
Like I said, Salinas is a real town, and offers all the facilities you can expect: not only is there a market and convenience stores, but there are also a couple of national supermarket brands (Tia, Supermaxi), a small mall, and of course various banks, a hospital and drugstores in case you need them. There are many taxis driving around at any time, as well as several bus lines.
In Salinas you'll also find plenty of restaurants, bars and night-clubs. Whatever your preferences, you'll most probably find what you're craving for! Before the pandemic, Salinas was famous for its festive ambiance, it is a lot quieter these days, but no doubt they will soon resume with their reputation!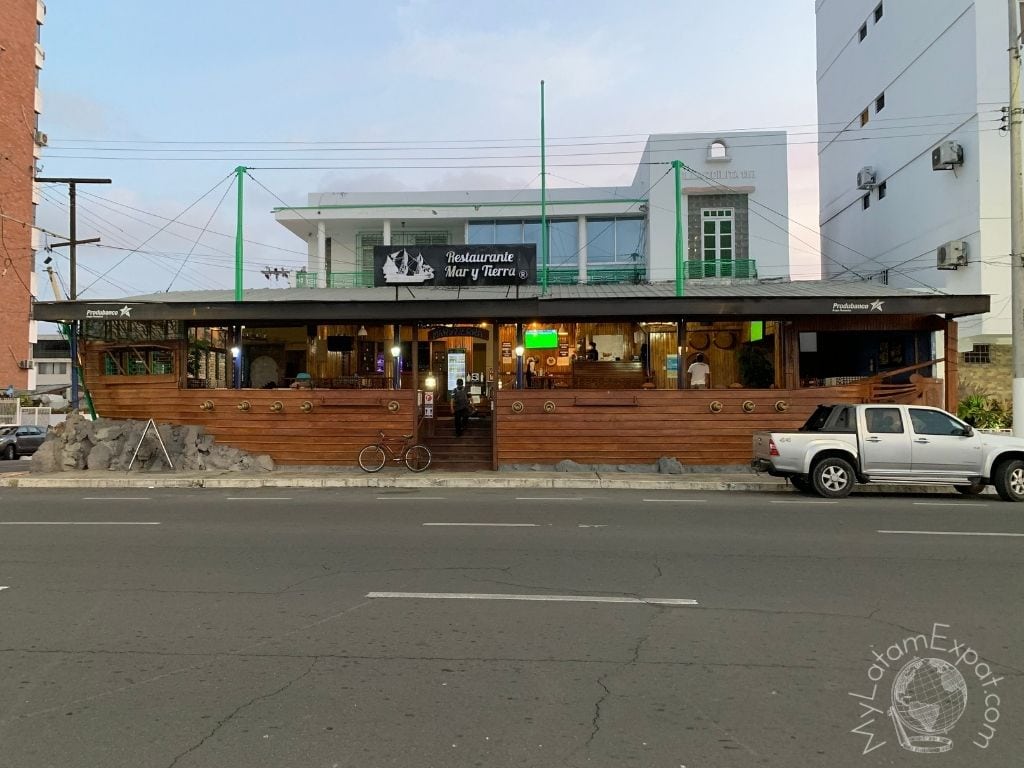 What should I know before visiting Salinas?
Climate and seasons : when is the best period to visit Salinas?
Well climate is pretty easy: the weather is nice all year long! Even rainy days are not cold. I'm not talking about an intensive hot weather, but rather agreeable temperatures, around 70/80°F (20/25°C). During the first 5 to 6 months, it is a little hotter and dryer, with temperatures up to 85°F. Temperature in the water is also hotter during that time of the year, but it is nice all year long, it's never cold.
Other natural phenomena
As Ecuador is located on a seismic zone, there is always a risk of earthquakes, they are pretty common in all the country, most of them being of small intensity. However, in a coastal city like Salinas, earthquakes mean risk of a tsunami, and you will see pretty much everywhere in town some posters informing you of what you should do in case there would be a tsunami.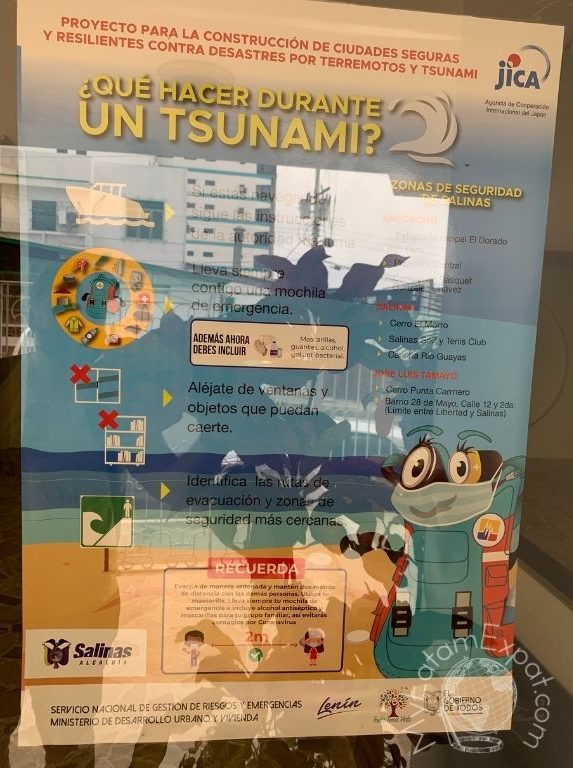 COVID-19 pandemic
There are still various restrictions in Salinas due to the sanitary situation. Hotels and restaurants are open for business, but need to respect a given maximum capacity of customers. Bars and night-clubs have been closed for a long time, but recently reopened for the 4-days off of Carnival.
As for the beaches, they are only open from 8am to 5pm, and officials walk or drive along the beaches to ensure this rule is respected. Like said earlier, selling drinks and food is officially prohibited on the beach, and masks are mandatory everywhere, including on the beach… but just not when you are bathing or swimming.
Would I recommend visiting Salinas?
Absolutely! Salinas offers a couple of nice beaches, calm water, and a real coastal town "ambiance". Of course, it's been rather calm there lately, but pretty much like everywhere else, right? If you like being in a city, more than in a small village, Salinas is made for you! It is not huge, but it offers all the conveniences of a town, including a large variety of restaurants.
If you come from Quito, it's pretty far to reach, either you fly in, or you're up for an 8 to 10 hour-drive. On the bright side, this road trip will take you through various regions and landscapes of Ecuador, from cold and arid mountains, luxurious valleys, to hot and humid coasts, and it will be a great adventure in itself!
And as often, you'll enjoy a great sunset on the beach!