After an exhausting trip, just a few hours after first setting foot in Ecuador, we had to answer an essential question: what were we going to eat for lunch? We were staying at a small and cozy B&B, surrounded by nature, away from the city of Quito…
We were recommended to head to a local mall, close enough for us to walk over there. It was a big mall, but we didn't care for the stores, we headed straight to the food court on the top floor. As we were on the last escalator, before even reaching the last floor, we saw a big sign in front of us, indicating: Crepes&Waffles! At that moment, for our very first lunch in Ecuador, we immediately knew, without needing to consult each other, that is was at this restaurant, and no other, that we would eat. Why were we so excited about it?
Well long story short, Crepes&Waffles and us, it's a long love story. It's a Colombia-founded restaurant that turns 25 years old this year, and it became a franchise with restaurants in various neighboring countries.
We discovered Crepes&Waffles back when we first arrived in Panamá, over a decade ago. It was a restaurant located close to our first apartment there, just a little further on our street. While walking by we saw the sign and thought: they make crepes? Let's go for it! And the least we can say is, we were not disappointed! Just after the entrance of the restaurant, you walk by a self-service salad bar with a lot of options. The menu offers a large variety of crepes, both salty (from the classical bretonne to italian or oriental-style crepes) or sweet, as well as many options of waffles, all very appealing, and a wide choice of flavors of delicious ice-cream! All of it being served in generous quantities.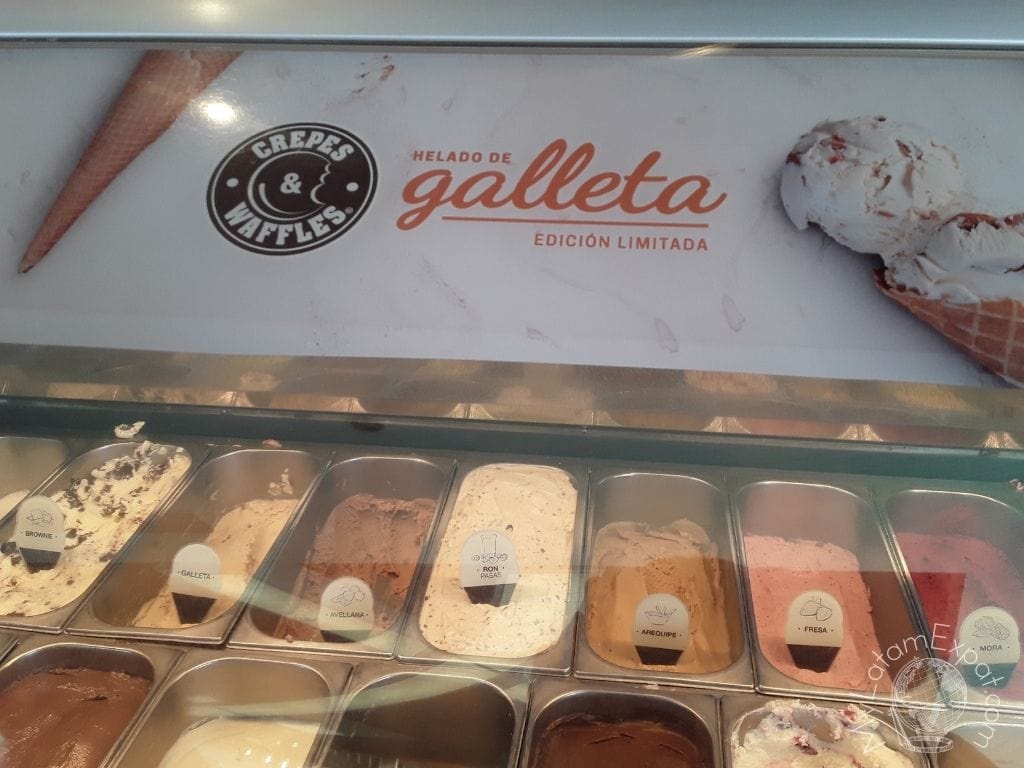 So basically, all the food on their menu is worth a try, we have had the opportunity to try out many different dishes and were never disappointed. So during the time we lived in Panamá, the Crepes&Waffles kind of became our cafeteria. We would go eat there during the week or on week-ends, just the two of us or with friends, we took our family when they came to visit… there was always a good reason for us to go eat at the Crepes&Waffles!
So obviously, when the elevator brought us in front of the sign Crepes&Waffles, it felt like it was calling us. We were excited but also curious to see if the Ecuadorian reality would live up to our Panamanian memories…
The decoration was pretty much the same, its chocolate brown logo, its wooden tables with fitting chairs, all the visual identity matched the one we had known. As for the food, we were not disappointed: ten years later, the menu is still pretty much the same, and the children also loved the food! But there was a downside, and not the smallest: you'd better not be in a hurry… It doesn't matter if you get there early (they only open up at noon except on Sundays, as they serve a brunch then), even if there aren't many customers (let's say 2 tables, including yours), I can safely say you would have at least half an hour between the moment you sit at a table and the moment the food you ordered gets served. The service is very slow, even if they see you (watch you!) enter the restaurant and sit at a table, you still need to wave at the waiters for someone to come and present you with the menu. Wave again when you are ready to order. And then prepare yourself to wait. Have you ordered drinks? You might have to remind the waitress, who seems to have forgotten that you were waiting for your drink. Have you ordered food for 4 people? Twenty minutes later, 3 of them will be able to eat, while the 4th has to wait another 5 to 10 minutes to get their plate (and I'm talking from experience, I've been the waiting nr 4 several times…). And since you are eating crepes, you can't expect others to wait for you to be served before they start eating, because crepes are far less tasty when cold… which basically means everyone is done eating when you just get started. If you order a side dish, you might have to ask for it repeatedly. And if for dessert you opt for an ice-cream, it'll take a rough 10 minutes to be served, coffee will get there much sooner and your ice-cream will have started to melt a little…
Since we like the food so much, we keep coming back every once in a while, but every time we are disappointed with the quality of service. It is so different from what we experienced in Panamá! Because in Panamá, we would barely have the time to finish our food that our plate was taken away and the next plate (if ordered in advance) was already coming! Of course in Panamá, it is considered rude to leave an empty plate in front of the customer, which explains the waiters' quickness. The downside was that if two people did not eat at the same speed, the faster one would already have their dessert in front of them before the other one finished their main course. It was pretty confusing at first but then we figured we needed to adapt to it: either accepting to not eat the same course at the same time; or ordering courses one by one, waiting for everyone to have finished a course before ordering all together the next course.
So what's the conclusion? Crepes&Waffles is and remains a quality franchise, with varied and delicious food, but where a customer's experience can really differ depending on the location of the restaurant. In Panamá, fast service, sometimes too fast. In Ecuador, on the contrary, a too slow and little efficient service. But no matter in which country you are, if you fancy some crepes (or waffles!), this restaurant is totally worth a try!